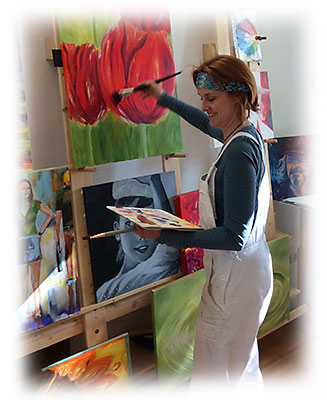 Klaudia Frieda
Born 1967 in Mönchengladbach, Germany.
I've been drawing and painting as long as I can remember. When I was a child, I spent hours with sketchbooks and pencils.
Since 2005 I have regulary attended art education workshops offered by diverse well known and famous international artists.
A serious illness in 2008 led to my decision to dedicate myself completely to the art of painting. So I decided to take a course dedicated to the study of art, at the private art academy in Mönchengladbach.
Since 2013 I spend much of my time painting in my studio "Franz 4" in Erkelenz. There or outside (en plein air) – directly in the face of my motif – I paint with all my energy and endless passion…
Exhibitions
2015
Day of open studios in my own studio "Franz 4"
Open Art Viersen
Burg Brüggen
Johanniter Stift Meerbusch
2014
Day of open studios
Open Art Viersen
2013
Art academy Mönchengladbach
Stadtfest Mönchengladbach
Johanniter Stift Erkelenz
2012
Wassenberger Kunst- und Kulturtag
2011
Art academy Mönchengladbach
To receive information about exhibitions or new projects or, if you would like to see my daily paintings please subscribe to my newsletter.